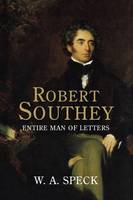 Format:

Paperback

Publication date:

10 Jul 2006

ISBN:

9780300197679

Imprint:

Dimensions:

336 pages: 3962 x 5944mm

Illustrations:

12 b-w illus.
Categories:
In his lifetime Robert Southey was very much the equal of his fellow "Lake poets," Coleridge and Wordsworth, but since his death his reputation has been overshadowed by their success. In this new biography W. A. Speck argues that if Southey's poetry is no longer considered as significant, his other writings were more salient and his political views far more influential than those of his fellow poets. He was, as Byron conceded, England's "only existing entire man of letters."

The book engages with Southey's voluminous publications, weaving discussion of them into the narrative of his life. Speck also explores Southey's entire correspondence, not only that which appeared in the editions edited by his descendants, and finds a man of considerably greater emotional complexity than previously assumed. The first fully rounded chronicle of Southey's life in sixty years, Speck's account sets Southey in historical context and restores him to the map of English literature.


?This handsomely produced volume makes extensive use of Southey?s poetry, biographies, histories, journalism, and full body of correspondence, justly celebrating the life of this most noteworthy chronicler of the eighteenth and nineteenth centuries.? - Joyce Wilson, The Keswick Reminder
?[Southey?s] long and distinguished life has been reduced to a walk-on role in the biographies of his more famous friends, Wordsworth and Coleridge. Fashions in literature change but does Southey deserve such neglect? WA Speck does not think so and in this competent biography sets out to restore him to his rightful place at the heart of the 19th-century literary world. ? Speck succeeds impressively in conveying the sheer volume, breadth and depth of Southey?s writing that made him such an influential figure in his time. He also establishes him as a principled and conscientious man, sometimes choleric, always witty, a lover of execrable puns.? - Juliet Barker, The Sunday Times
?[It] is meticulously researched and amply annotated and calmly objective? [A] worthy book.? - Rupert Christiansen, The Spectator
?It might be a fine idea if every aspiring writer were given a copy of this biography? It is?an exceptionally interesting and eloquent account of [his] life that brings Southey?s personality into much clearer focus.? - Stuart Kelly, Scotland on Sunday
?Professor Speck writes clearly?[and] is particularly good on money? This is the best modern biography of Southey. Speck obviously sympathises with his subject and aspires to revive his reputation.? - Adam Sisman, Literary Review
?Himself an enthusiast for the poetry, WA Speck succeeds in confirming Southey?s ordinariness rather than reviving his reputation. Nevertheless this is a thorough and affectionate biography that tells us a great deal about the literary climate of the time and shows us Southey?s range?as a writer.? - Frances Wilson, The Sunday Telegraph
?In Robert Southey, W A Speck gives this neglected man his due. ? He has written a work admirably balanced in thoroughness and brevity.? - Alexandra Mullen, Wall Street Journal Europe
?WA Speck?s new biography sets the record straight, putting down aught in malice. ? Speck?s new biography is probably the best researched life of Southey yet produced, drawing on correspondence and other materials found on both sides of the Atlantic. Its assessment of him is fair?? - Duncan Wu, The Guardian
"...definitive and highly engaging...[a] humane and elegantly drawn portait."---Church Times
?Clearly the best biography of Southey ever written.??Lynda Pratt, University of Nottingham
?The first full-length biography of Southey in 60 years. Its virtues are numerous. Both readable and reliable, it supersedes all previous accounts and should certainly appeal to anyone interested in Romantic and Victorian studies. The volume includes copious notes, an analytical index, and 23 attractive illustrations. Highly recommended.??Choice
?In clearly the best biography of Southey ever written?highly respected historian W. A. Speck offers an important new portrait of Southey. . . . Speck?in biographical writing at its best that is thoroughly entertaining and painstakingly researched?organizes his presentation around three periods of Southey?s life: ?A morning of ardour and hope?; ?A day of clouds and storms?; and ?An evening of gloom closed in by premature darkness?. . . . To see how the radical liberal became the thoughtful conservative?a nineteenth century exemplar who is most instructive for observers of the twenty-first century?spend a few evenings with W. A. Speck?s marvelous new biography.??Tim Davis, The American Spectator
Shortlisted for the 2006 Portico Prize for Literature
"The great strength of Speck's biography, a strength that makes it vital reading for any student of Southey (which is to say any student of Romanticism), is the detailed research that allows us not only to see the events of the poet's career, but also the development of the poet's mind. . . . The book is a valuable read for any Romanticist, and it begins what ought to be a larger project of reconsidering Southey as a central figure of the period."?Rocky Mountain Review
"William Speck delivers what he promises?a thorough, balanced, and contextualized account of Southey's life, from beginning to end. It reminds us of the complexities of political belief in a period of great transformative change."?Timothy Jenks, H-Albion