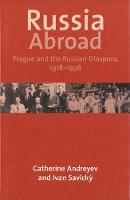 Format:

Paperback

Publication date:

10 May 2004

ISBN:

9780300198027

Imprint:

Dimensions:

272 pages: 235 x 156mm

Illustrations:

12 b-w illus.

Sales territories:

World
In the wake of the Russian Revolution and the ensuing civil war, approximately 1.5 million Russians fled their country. Many settled in Prague, where they were welcomed and supported by the newly formed Czechoslovak Republic. This book presents the first full account of Prague's Russian émigré community from 1918 to 1939, when the Nazi invasion scattered the inhabitants yet again. Russia Abroad examines the life of this vibrant community, its activity, achievement, and importance.
Catherine Andreyev and Ivan Savicky explore the reasons that Czechoslovakia embraced the Russian immigrants, the evolution of the Russian community, and why the original idea of supporting Russian émigrés and creating an academic center of progressive Russians had to be modified in light of national and international politics. The story they tell not only illuminates aspects of Russian life and culture of the period but also offers insights into later diasporas in the twentieth and twenty-first centuries.
?A fascinating analysis. . . . Balanced and fair. . . . Clear and impressive.??Choice
"When one considers the wealth of new and detailed information that Andreyev and Savickì present in their intelligent and unsentimental analysis of the period, it is difficult not to be convinced by their arguments. . . . Andreyev and Savickì's meticulously researched and authoritative reconstruction of the political forces behind the creation of the Russian community in Czechoslovakia represents a significant step forward. [The book] helps clarify our understanding of their research in a coherent historical narrative, by reexamining some widely cited but inaccurate "facts" about the period, and by bringing to light some important but now-forgotten figures of the emigration. . . . It is an impressive piece of scholarship that will doubtless serve as an indispensable resource for further research in this area."?Alexandra Kirilcuk, Slavic and East European Journal