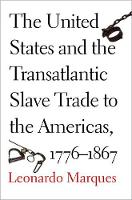 The United States and the Transatlantic Slave Trade to the Americas, 1776-1867 Leonardo Marques
Format:

Hardback

Publication date:

03 Jan 2017

ISBN:

9780300212419

Imprint:

Dimensions:

328 pages: 235 x 156 x 29mm

Illustrations:

3 b-w illus.

Sales territories:

World
Categories:
An investigation of US participation in the transatlantic slave trade to the Americas, from the American Revolution to the Civil War  

While much of modern scholarship has focused on the American slave trade's impact within the United States, considerably less has addressed its effects in other parts of the Americas. A rich analysis of a complex subject, this study draws on Portuguese, Brazilian, and Spanish primary documents—as well as English-language material—to shed new light on the changing behavior of slave traders and their networks, particularly in Brazil and Cuba. Slavery in these nations, as Marques shows, contributed to the mounting tensions that would ultimately lead to the U.S. Civil War. Taking a truly Atlantic perspective, Marques outlines the multiple forms of U.S. involvement in this traffic amid various legislation and shifting international relations, exploring the global processes that shaped the history of this participation.
Leonardo Marques is professor of history at the Universidade Federal Fluminense and a researcher on the Voyages: The Trans-Atlantic Slave Trade Database project.
"Rooted in research in primary materials, the book offers a wealth of new evidence and insight."—David Richardson, coauthor of Atlas of the Transatlantic Slave Trade
"A comprehensive account of U.S. involvement in the transatlantic slave trade to Cuba and Brazil. Conceptually brilliant and deeply researched, Marques's work explains how Americans were vital actors in this horrific commerce, as merchants, captains, sailors, shipbuilders, and the everyday consumers of slave-grown coffee and sugar."—Edward B. Rugemer, author of The Problem of Emancipation: The Caribbean Roots of the American Civil War 
"Based on extensive research utilizing numerous primary sources, Marques's book focuses on the importance of U.S. involvement with the slave trades of other American areas. This is a significant original contribution to the examination of the nineteenth-century Atlantic slave trade and its impacts on U.S. political and economic developments."—Stanley L. Engerman, John H. Munro Professor of Economics and Professor of History, University of Rochester