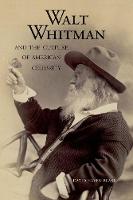 Walt Whitman and the Culture of American Celebrity David Haven Blake
Format:

Paperback

Publication date:

05 May 2015

ISBN:

9780300217131

Imprint:

Dimensions:

272 pages: 235 x 156 x 19mm

Illustrations:

8 b-w illus.
Categories:
What is the relationship between poetry and fame? What happens to a reader's experience when a poem invokes its author's popularity? Is there a meaningful connection between poetry and advertising, between the rhetoric of lyric and the rhetoric of hype? One of the first full-scale treatments of celebrity in nineteenth-century America, this book examines Walt Whitman's lifelong interest in fame and publicity.
Making use of notebooks, photographs, and archival sources, David Haven Blake provides a groundbreaking history of the rise of celebrity culture in the United States. He sees Leaves of Grass alongside the birth of commercial advertising and the nation's growing obsession with the lives of the famous and the renowned. As authors, lecturers, politicians, entertainers, and clergymen vied for popularity, Whitman developed a form of poetry that routinely promoted and, indeed, celebrated itself. Walt Whitman and the Culture of American Celebrity proposes a fundamentally new way of thinking about a seminal American poet and a major national icon.


David Haven Blake is associate professor of English, The College of New Jersey. He was co-director of Walt Whitman's Leaves of Grass: The Sesquicentennial Symposium in 2005. He lives in Pennington, NJ.


"This rich and engaging book locates Walt Whitman in an expanse of popular culture that stretches from patent medicines to presidential politics, revealing the poet's complicated, often inconsistent views on poetry, commerce, and celebrity."—Wes Davis, Yale University


"To date the most sustained look at Whitman in the context of celebrity and self-promotion. Blake's scholarship and writing are both exemplary." —Wes Davis, Yale University
"This is an elegantly written and original book that has much to teach us about Whitman's life and work and the culture of celebrity in which he lived and wrote."—Betsy Erkkila, author of Whitman the Political Poet
"Using rich archival material, David Blake shows us a Whitman 'celebrating' American democracy and dreaming of the mass applause that alone proves a poet's worth."—Wai Chee Dimock, Yale University
"Anyone interested in America's celebrity culture will want to read Blake's revelatory study of how Whitman tried to build a democratic poetry on the basis of personality, publicity, and public intimacy—and how, for a few decades in the last half of the nineteenth century, it was possible to imagine celebrity itself redeeming a nation."—Ed Folsom, author of
Walt Whitman's Native Representations