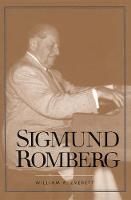 Series:

Format:

Paperback

Publication date:

16 Jun 2015

ISBN:

9780300217629

Imprint:

Dimensions:

384 pages: 235 x 156 x 29mm

Illustrations:

15 b-w illus & 35 musical examples

Sales territories:

World
Hungarian-born composer Sigmund Romberg (1887–1951) arrived in America in 1909 and within eight years had achieved his first hit musical on Broadway. This early success was soon followed by others, and in the 1920s his popularity in musical theater was unsurpassed. In this book, William Everett offers the first detailed study of the gifted operetta composer, examining Romberg's key works and musical accomplishments and demonstrating his lasting importance in the history of American musicals.
Romberg composed nearly sixty works for musical theater as well as music for revues, for musical comedies, and, later in life, for Hollywood films. Everett shows how Romberg was a defining figure of American operetta in the 1910s and 1920s (Maytime, Blossom Time, The Student Prince), traces the new model for operetta that he developed with Oscar Hammerstein II in the late 1920s (The Desert Song, The New Moon), and looks at his reworked style of the 1940s (Up in Central Park). This book offers an illuminating look at Romberg's Broadway career and legacy.
William A. Everett is associate professor of music history/musicology, Conservatory of Music, University of Missouri–Kansas City. He is author of The Musical: A Research and Information Guide and coeditor of The Cambridge Companion to the Musical. He lives in Kansas City.
Winner of the 2008 Award for Excellence in Historical Recorded Sound Research, given by the Association for Recorded Sound Collections.
"This is the first serious study of Sigmund Romberg and is an important and original contribution to the study of musical theater. Everett explores the music—and the context in which it was first presented—in a careful and thorough manner."—Thomas S. Hischak, author of The Oxford Companion to American Theatre