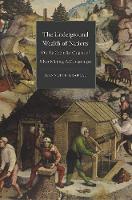 The Underground Wealth of Nations On the Capitalist Origins of Silver Mining, A.D. 1150-1450 Jeannette Graulau
Series:

Format:

Hardback

Publication date:

26 Nov 2019

ISBN:

9780300218220

Imprint:

Dimensions:

392 pages: 235 x 156 x 24mm

Illustrations:

40 b-w illus.

Sales territories:

World
Silver mining was a capitalist business long before the supposed origin of modern capitalism

Hundreds of years before a sixteenth‑century crisis in European agriculture led to the origins of capital, investment, and finance, the silver mining industry exhibited many of the features of modern capitalism. Silver mines were large‑scale businesses that demanded large investments and steady cash flow, achieved by spreading that risk through fungible shares and creating legal structures to protect entrepreneurs from financial disaster. Jeannette Graulau argues that mining preceded agriculture as the first true capitalist enterprise of the modern world.
Jeannette Graulau is associate professor of political science at Herbert H. Lehman College, The City University of New York.
"Jeannette Graulau shows how mining was an important locus of the emergence and evolution of economic and political institutions that have come to be understood as capitalist. Mining was not just a feudal backwater, but a dynamic sector in which bankers were able to organize corporations that eventually played a central role in the emergence of modern nation-states."—Christopher Chase-Dunn, University of California, Riverside
 

"A meticulous excavation of capitalist silver mining in feudal Europe. An original contribution to the study of early modern capitalism and the origins of the specie."—Robert Schaeffer, California Polytechnic State University