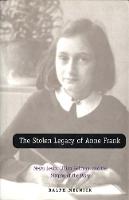 The Stolen Legacy of Anne Frank Meyer Levin, Lillian Hellman, and the Staging of the Diary Ralph Melnick
Format:

Paperback

Publication date:

01 Sep 1997

ISBN:

9780300194630

Imprint:

Dimensions:

290 pages: 229 x 152mm

Illustrations:

17 b-w illus.

Sales territories:

World
Categories:
As one of the first American journalists to enter the newly liberated concentration camps in the closing days of the Holocaust, Meyer Levin wished the world to know of the horror he had found. Seizing upon Anne Franks Diary as a poignant voice to tell the tale, he helped to arrange for its American publication and secured from Anne's father the right to adapt it for the theater. But Levin's overtly "Jewish" treatment was rejected in favor of a play with a universal message, conceived by Lillian Hellman and others in her circle. Anne's thoughts about her Jewishness were distorted, omitted, and reworded in this new version, and Levin was convinced that a conspiracy existed to delete the Jewish elements from the diary. He spent the rest of his life protesting this suppression of Anne's legacy and fighting for the right to produce his own play. Now Ralph Melnick draws on material never used before—including papers of Lillian Hellman, Otto Frank, and other key players—and substantiates Levin's claims.

Melnick unravels the story step by step, establishing the bias of the opposition to Levin. He also describes the wider cultural struggle of the 1950s of which this episode was only a small part. Documenting the conspiracy against Levin and, therefore, ultimately against Anne Frank's work, he shows that something meaningful was at stake in this struggle over the "Jewishness" of the destruction of the Jews.
Ralph Melnick is library director and instructor of religion at Williston Northampton School in Easthampton, Massachusetts.
"I read this book with avid interest. Meyer Levin's conviction that his dramatization of Anne Frank's story was de-Judaized for the American stage through the efforts of Lillian Hellman and her associates has been examined and debunked recently in a book by Lawrence Graver. But Melnick's book?which verifies Levin's claims?is a much more thorough and careful study of what transpired among those opposed to Levin."?Ruth R. Wisse
"Melnick's impressively documented work is a resounding refutation of Lawrence Graver's 1995 anti-Levin An Obsession With Anne Frank."?Kirkus Reviews
"Fascinating insights into how Hollywood and Broadway combine to shape the cultural values they wish us to live by."?Lawrence L. Langer
"For those who never questioned the completeness or accuracy of Anne Frank?s Diary, the resulting arguments and revelations are enlightening."?Kay Meredith