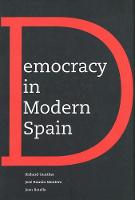 Format:

Paperback

Publication date:

15 Apr 2011

ISBN:

9780300177008

Imprint:

Dimensions:

496 pages: 229 x 152mm

Illustrations:

3 b-w illus.

Sales territories:

World
Categories:
This book, written by three of the world's leading experts on Spanish politics, is the first comprehensive study of the origins and basic character of Spain's democratic political system. It analyzes the regime's core political institutions, its political parties and party systems, patterns of electoral behavior, the evolution of Spain's political culture, and the impact of these social and institutional changes on public policy processes and outputs.
The authors survey those aspects of Spanish society and politics that had contributed to the country's inability to sustain a stable and democratic regime prior to the 1970s. They argue that the successful transition to and consolidation of democracy was made possible by socioeconomic modernization, cultural change, and by decisions made by political elites in the establishment of core democratic institutions and the conduct of electoral competition. This book is based on over 500 hours of interviews with Spanish political elites, extensive analyses of survey data, and other original research.
"The case of Spain is relevant to the whole range of problems of comparative politics in the many new democracies, and the collected experience of Gunther, Botella, and Montero will fill an enormous gap in the field. In contrast with the many country studies this is not a book by an outsider summarizing the secondary literature, but based on original research by the three authors incorporating the relevant Spanish scholarship. This will be the standard book on contemporary Spanish politics."?Juan J. Linz, Sterling Professor Emeritus of Political and Social Science, Yale University
"Classic and essential reading for anyone interested in Spanish politics. The authors present a new and updated account of Spain?s recent political history, combining a wealth of empirical detail and data?from electoral outcomes to survey data?with compelling narrative and interpretation."?Kerstin Hamann, Associate Professor of Political Science, University of Central Florida
Selected as a 2006 Outstanding Academic Title by Choice Magazine