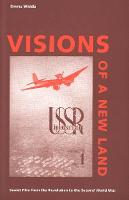 Visions of a New Land Soviet Film from the Revolution to the Second World War Emma Widdis
Format:

Paperback

Publication date:

01 Oct 2012

ISBN:

9780300194692

Imprint:

Dimensions:

272 pages: 229 x 152mm

Illustrations:

78 b-w illus.

Sales territories:

World
Categories:
In 1917 the Bolsheviks proclaimed a world remade. The task of the new regime, and of the media that served it, was to reshape the old world in revolutionary form, to transform the vast, "ungraspable" space of the Russian Empire into the mapped territory of the Soviet Union. This book shows how Soviet cinema encouraged popular support for state initiatives in the years between the revolution and the Second World War, helping to create a new Russian identity and territory—an "imaginary geography" of Sovietness.

Drawing on a vast range of little-known texts, Emma Widdis offers a unique cultural history of the early Soviet period. In particular, she shows how films projected the new Soviet map onto the great shared screen of the popular imagination.

Emma Widdis is lecturer in the Slavonic department at the University of Cambridge.
?This is a fascinating and pathbreaking study that charts a whole new approach to early Soviet culture, focusing on film and its role in the making of the Soviet nation. It is a pleasure to read.??Svetlana Boym, Harvard University
?Widdis draws on an extensive range of materials. . . . She uses a unique approach to the study of cultural history. . . . Widdis brings her material to life by providing wonderful illustrations. . . . A sound bibliography and an extensive filmography. . . . Most importantly Widdis offers a unique and interesting approach. . . . The book is useful for scholars and students of the Soviet period, film studies, or cultural studies.??Aleksandra Fleszar and Arna Bronstein, Slavic and East European Journal
?[Widdis] has carried out her assignment with buoyancy and aplomb. . . . [She] provides much food for thought. . . . [The] text . . . is as visionary as it is rigorous.??John E. Bowlt, Slavic Review
"A helpful introduction to the Soviet visual culture of the 1920s-1930s. The monograph's straightforward, clear language and the extensive bibliographical apparatus can make it a useful textbook for students and researchers of the period."?Utopian Studies