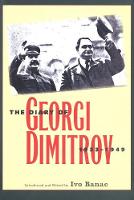 Series:

Format:

Paperback

Publication date:

12 Jul 2012

ISBN:

9780300191448

Imprint:

Dimensions:

560 pages: 229 x 152mm

Illustrations:

26 b-w illus.

Sales territories:

World
Categories:
Georgi Dimitrov (1882–1949) was a high-ranking Bulgarian and Soviet official, one of the most prominent leaders of the international Communist movement and a trusted member of Stalin's inner circle. Accused by the Nazis of setting the Reichstag fire in 1933, he successfully defended himself at the Leipzig Trial and thereby became an international symbol of resistance to Nazism. Stalin appointed him head of the Communist International (Comintern) in 1935, and he held this position until the Comintern's dissolution in 1943. After the end of the Second World War, Dimitrov returned to Bulgaria and became its first Communist premier.

During the years between 1933 and his death in 1949, Dimitrov kept a diary that described his tumultuous career and revealed much about the inner working of the international Communist organizations, the opinions and actions of the Soviet leadership, and the Soviet Union's role in shaping the postwar Eastern Europe. This important document, edited and introduced by renowned historian Ivo Banac, is now available for the first time in English. It is an essential source for information about international Communism, Stalin and Soviet policy, and the origins of the Cold War.

Ivo Banac is the Bradford Durfee Professor of History at Yale University.

?Provides important new insights into Stalin?s mind and his foreign policy in the 1930s and ?40s.??Orlando Figes, Professor of History, Birkbeck College, London University
?The voluminous diary of Georgi Dimitrov, who headed the Comintern in 1936?1943 and the Bulgarian Communist Party from 1945 until his death in 1949, is here published for the first time in English. It is a unique source of valuable information on events of Stalin?s time including his comments and opinions expressed during informal gatherings with his entourage, of which Dimitrov was a member. Ably edited by Professor Ivo Banac, the diary will be of interest to all historians of the Stalin period.??Robert C. Tucker, Professor of Politics Emeritus, Princeton University
"This diary illuminates strongly, and often uniquely, the way Soviet foreign policy?but also internal policy?developed over the critical period 1935?1945, and after that the Stalinisation of Eastern Europe. Here are greater first-hand insights into the politically steamy mindsets of the Stalin leadership than any we have yet seen."?Robert Conquest
?The Dimitrov diary provides intimate notes and thoughts from the Communist International?s best-known personality during its most important period.??Tony Judt, New York University
?Ivo Banac?s informative commentary is even more valuable than the diary itself.??Donald Rayfield, Literary Review
"A valuable souvenir of the Stalinist period."?Robert Fulford, National Post
"Exquisitely introduced and annotated...indispensable to understanding how decoding the lineups on the Lenin Mausoleum was a life-and-death preoccupation."
?For diligent students of the madness of the international communist movement, and for anyone interested in the character of Stalin, there are nuggets of insight. Dimitrov saw a good deal of Stalin, and much of the diary . . . is in fact a sort of conversation with Stalin.??Anne Applebaum, New York Sun
"Ivo Ban…c . . . provides a superbly informative introduction, as well as remarkably well-documented biographical notes. . . . Students of World Communism as well as those who want to understand the role of the Comintern in the Spanish Civil War, the impact of the Nazi-Soviet Pact on Communist Parties in Europe, the establishment of ?people?s democracies?, the Greek Civil War, and the origins of the Soviet-Yugoslav and Sino-Soviet schisms will find this book illuminating. . . . Extraordinary."?Vladimir Tismaneanu, Times Literary Supplement
"[This] book is full of fascinating?and important?material."?Michael Ybarra, Wall Street Journal
?A scholarly and important contribution to the history of English silver in the 16th and 17th centuries. . . . This volume should be strongly considered by every school, university, and public library.??Library Journal