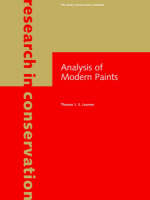 Format:

Paperback / softback

Publication date:

01 Mar 2005

ISBN:

9780892367795

Imprint:

Dimensions:

236 pages: 276 x 215 x 17mm

Illustrations:

240 b&w and 10 colour illustrations
Categories:
Although oil remains an important binding medium in artists' paints, today's synthetic resins are being used with increasing frequency. This was true during much of the twentieth century, when artists such as David Alfaro Siqueiros, Jackson Pollock, and Pablo Picasso used commercial or industrial paints based on synthetic resins. The growing popularity of synthetic resin materials carries important implications for the conservation, preservation, and treatment of modern art. This volume outlines the techniques that are currently employed to analyse the synthetic resins used in modern painting materials, such as pyrolysisgas chromatography - mass spectrometry, Fourier Transform infrared spectroscopy, and direct temperature - resolved mass spectrometry.
Thomas J. S. Learner is a senior conservation scientist at the Tate, in London.
Stephanie Schrader

£28.00

Antonella Fuga

£16.99