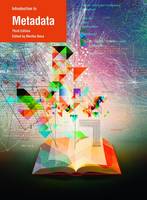 Introduction to Metadata 3e Murtha Baca
Format:

Paperback / softback

Publication date:

15 Jul 2016

ISBN:

9781606064795

Imprint:

Dimensions:

96 pages: 240 x 177 x 7mm

Illustrations:

1 b/w illus.
Categories:
A revised and expanded edition of a key text for librarians, scholars, and museum professionals Metadata provides a means of indexing, accessing, preserving, and discovering digital resources. The volume of digital information available over electronic networks has created a pressing need for standards that ensure correct and proper use and interpretation of the data by its owners and users. Well- crafted metadata is needed more now than ever before and helps users to locate, retrieve, and manage information in this vast and complex universe. The third edition of Introduction to Metadata, first published in 1998, provides an overview of metadata, including its types, roles, and characteristics; a discussion of metadata as it relates to Web resources; and a description of methods, tools, standards, and protocols for publishing and disseminating digital collections. This revised edition is an indispensable resource in the field, addressing advances in standards such as Linked Open Data, changes in intellectual property law, and new computing technologies, and offering an expanded glossary of essential terms. Praise for the first edition: "An excellent starting point for information professionals to gain a basic understanding of fundamental concepts, then move ahead with a guided path for further research and study." -Art Documentation
MURTHA BACA is head of digital art history at the Getty Research Institute. She is the editor of Introduction to Art Image Access: Issues, Tools, Standards, and Strategies (Getty Publications, 2002) and the series editor of the Introduction To series from the Getty Research Institute.