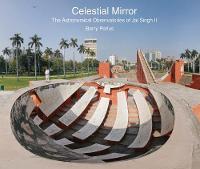 Celestial Mirror The Astronomical Observatories of Jai Singh II Barry Perlus
Format:

Hardback

Publication date:

23 Jun 2020

ISBN:

9780300246278

Imprint:

Dimensions:

168 pages: 229 x 270 x 17mm

Illustrations:

151 color illus.

Sales territories:

World
Categories:
Explore the eighteenth‑century Indian astronomical observatories called the Jantar Mantars, massive, stunning structures built to observe and understand the heavens

Between 1724 and 1730, Maharaja Sawai Jai Singh II of Jaipur constructed five astronomical observatories, called Jantar Mantars, in northern India. The four remaining observatories are an extraordinary fusion of architecture and science, combining elements of astronomy, astrology, and geometry into forms of remarkable beauty. The observatories' large scale and striking geometric forms have captivated the attention of architects, artists, scientists, and historians worldwide, yet their purpose and use remain largely unknown to the public.
           
In this book, Barry Perlus's visually driven exploration brings readers to the Jantar Mantars and creates an immersive experience. Panoramas plunge the viewer into a breathtaking 360‑degree space, while pages of explanatory illustrations describe the observatories and the workings of their many instruments. The book provides the experience of visiting the sites, the historical context of the Jantar Mantars, and an understanding of their scientific and architectural innovations.
Barry Perlus is associate professor of art in the College of Architecture, Art, and Planning at Cornell University. He has taught courses in photography since 1984 and received support from the Graham Foundation for Advanced Studies in the Fine Arts for his creative work.
"I cannot imagine what an alien landing next to these mysterious observatories, the Jantar Mantars, would think! Thankfully we have Perlus's beautiful book, which allows us to see and understand the cross-cultural breadth of astronomy."—Anthony Aveni, author of Star Stories: Constellations and People

"This is what we need to understand about [the Jantar Mantars]; this is why they were made; this is why they need to be experienced and celebrated. They are of immeasurable value to help anyone so inclined to set off on quests of self‑discovery and personal interpretation."—Anisha Shekhar Mukherji, from her essay "Time and Space in the Jantar Mantars"
 

"This is an absolutely fascinating presentation, and a major contribution to the history of cultural  astronomy in India. The author's spectacular photographs of the instruments and the clarity of his explanations are a delight."—Simon Mitton, University of Cambridge

"This exquisite volume transports the reader to four fantastical observatories where the outsized instruments – free of lenses, mirrors, cameras, or telescopes – take the spiritual and scientific measure of the heavens."—Dava Sobel, author of Longitude, Galileo's Daughter, and The Glass Universe

"Viewing Barry Perlus's striking, immersive photography transports you to the Jantar Mantars of India. The clear text and diagrams elucidate the workings of Maharaja Jai Singh's gigantic structures."—Mark SubbaRao, president of the International Planetarium Society