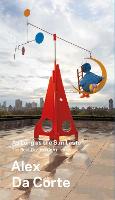 Format:

Paperback

Publication date:

13 Jul 2021

ISBN:

9781588397294

Imprint:

Dimensions:

64 pages: 184 x 110mm

Illustrations:

40 color illus.
Known for his use of familiar objects, icons, and brands in surprising and surreal contexts, Alex Da Corte (b. 1980) often confronts themes of identity, cultural hegemony, and consumerism in his videos, sculptures, paintings, and installations. In As Long as the Sun Lasts—his most recent work and the subject of the 2021 installment in the The Met's Roof Garden Commission series—he joins the beloved Sesame Street character Big Bird with the kinetic sculptural works of Alexander Calder. This compact volume presents images and analysis of the new installation, considering it in the context of his past work and featuring fascinating records of the artist's process, including sketches and images from his studio. An interview with Da Corte provides further insight into his diverse artistic inspirations, which range from Renaissance painting to horror films, and elaborates on how art history, politics, and religion inform his work. Stunning photographs of the final installation and focused essays establishing Da Corte's art historical importance round out this compact, provocative publication.
Shanay Jhavari is assistant curator of international Art in the Department of Modern and Contemporary Art at The Metropolitan Museum of Art. Jack Halberstam is professor of gender studies and English at Columbia University, New York.
The Metropolitan Museum of Art, New York
(April 16–October 31, 2021)