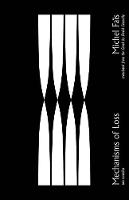 Series:

Format:

Hardback

Publication date:

09 Feb 2021

ISBN:

9780300237177

Imprint:

Dimensions:

160 pages: 197 x 127mm

Sales territories:

world
Categories:
A duet of provocative novellas that examine contemporary Greek identity, translated by one of the foremost experts in Greek literature

From esteemed Greek writer Michel Faïs comes a pair of novellas that explore the stories we choose to tell about the lives we pretend to live. Aegypius monachus is a semi-autobiographical snapshot of a man roaming the streets of Athens, reflecting on his tumultuous marriage and the childhood roots of his failure at love. Lady Cortisol dramatizes a conversation between one man and one woman, highlighting the miscommunications and mixed signals that happen in dialogue with the other. With a foreword by acclaimed Greek translator and literary critic Katerina Schina and an afterword by journalist and critic Vangelis Hatzivasileiou, these fragmented, staccato novellas explore the ways in which we sabotage our rare chances at love, plunging into the interior of the mind and exposing the things we do not say aloud.
Michel Faïs is a literary critic and editor of the books section for the influential Greek newspaper Efimerida ton Syntakton. David Connolly is a retired professor of translation studies whose translations have won awards in Greece, the United Kingdom, and the United States. Both Faïs and Connolly live in Greece.
"Michel Faïs is one of the most enterprising contemporary Greek writers, able to reinvigorate his themes and techniques and engage his readers with subtle narratives. Mechanisms of Loss contains two of his finest novellas."—Dimitris Tziovas, University of Birmingham
"Faïs has a remarkable literary sensitivity to troubled inner geographies that defy logical explanation. Evoking the emotional frequencies of Kafka's writings, the powerful centrifugal force of compulsive self-observation propels both novellas in Mechanisms of Loss."—Bart Soethaert, Freie Universität Berlin
"These two novellas are emblematic of the work of a writer whose place in the modern Greek literary canon is assured. Faïs's narrators—compelling, indignant, neurotic, rambling; their vernacular rhythms deftly captured in David Connolly's translation—are searching for answers across the urban landscapes of their daily lives like ghosts trapped in a world that offers no salvation."—Panos Karnezis, author of Little Infamies
"There's no doubt that Michel Faïs's fiction transformed the Greek literary landscape of the late twentieth century. These two novellas display exquisitely this unique writer's pivotal tropes: the quirky workings of memory, inflections in narrative voices so torrential they yield to parody, and a language that veers towards self-destruction."—Eleni Papargyriou, University of Patras