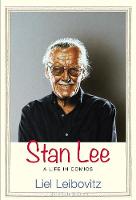 Series:

Format:

Hardback

Publication date:

23 Jun 2020

ISBN:

9780300230345

Imprint:

Dimensions:

192 pages: 210 x 146 x 17mm

Illustrations:

1 b-w illus.

Sales territories:

World
Categories:
From the prizewinning Jewish Lives series, a meditation on the deeply Jewish and surprisingly spiritual roots of Stan Lee and Marvel Comics

Few artists have had as much of an impact on American popular culture as Stan Lee. The characters he created—Spider-Man and Iron Man, the X-Men and the Fantastic Four—occupy Hollywood's imagination and production schedules, generate billions at the box office, and come as close as anything we have to a shared American mythology.

This illuminating biography focuses as much on Lee's ideas as it does on his unlikely rise to stardom. It surveys his cultural and religious upbringing and draws surprising connections between celebrated comic book heroes and the ancient tales of the Bible, the Talmud, and Jewish mysticism. Was Spider-Man just a reincarnation of Cain? Is the Incredible Hulk simply Adam by another name? From close readings of Lee's work to little-known anecdotes from Marvel's history, the book paints a portrait of Lee that goes much deeper than one of his signature onscreen cameos.

About Jewish Lives:

Jewish Lives is a prizewinning series of interpretative biography designed to explore the many facets of Jewish identity. Individual volumes illuminate the imprint of Jewish figures upon literature, religion, philosophy, politics, cultural and economic life, and the arts and sciences. Subjects are paired with authors to elicit lively, deeply informed books that explore the range and depth of the Jewish experience from antiquity to the present.

In 2014, the Jewish Book Council named Jewish Lives the winner of its Jewish Book of the Year Award, the first series ever to receive this award.

More praise for Jewish Lives:

"Excellent." – New York times

"Exemplary." – Wall St. Journal

"Distinguished." – New Yorker

"Superb." – The Guardian
Liel Leibovitz is the author of A Broken Hallelujah: Rock and Roll, Redemption, and the Life of Leonard Cohen. He is a senior writer for Tablet magazine and a cohost of its popular podcast, Unorthodox. He lives in New York City.
"Mr. Leibovitz provides fresh interpretations of the Marvel universe, itself a super-heroic feat. Lee's contentious heroes, he finds, take their cue from the Talmud, which unveiled spiritual truths through the clash of opposing interpretations."—Michael Saler, Wall Street Journal

"The Marvel and DC universes are almost certainly the most extensive pieces of continuous narrative in human history—which should commend them to the attention of anybody interested in culture…The Jewishness of the early comics industry…is ever present in the story…[and] Leibovitz drills deeply into this."—Sam Leith, Prospect

CHOICE 2021 Outstanding Academic Title

"Liel Leibovitz's Stan Lee: A Life in Comics interprets Lee's and his collaborators' Marvel co-creations—such as the X-Men and Spider-Man—in a uniquely Jewish context, bringing fresh insights and added dimension to characters whose genius lies, in part, in their ability to credibly sustain such interpretations."—Danny Fingeroth, author of A Marvelous Life: The Amazing Story of Stan Lee

"From one of our most incisive Jewish cultural critics—someone who is equally at home in the history of Jewish thought and text and the pop culture world of the postwar period—this is a thoroughly entertaining, deeply intelligent, and highly thoughtful work."—Jeremy Dauber, author of Jewish Comedy: A Serious History