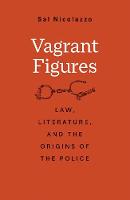 Vagrant Figures Law, Literature, and the Origins of the Police Sal Nicolazzo
Series:

Format:

Hardback

Publication date:

23 Feb 2021

ISBN:

9780300241310

Imprint:

Dimensions:

320 pages: 235 x 156 x 27mm

Illustrations:

3 b-w illus.
Categories:
How vagrancy, as legal and imaginative category, shaped the role of policing in colonialism, racial formation, and resource distribution
 
In this innovative book demonstrating the important role of eighteenth-century literary treatments of policing and vagrancy, Nicolazzo offers a prehistory of police legitimacy in a period that predates the establishment of the modern police force. She argues that narrative, textual, and rhetorical practices shaped not only police and legal activity of the period, but also public conceptions of police power. Her extensive research delves into law and literature on both sides of the Atlantic, tracking the centrality of vagrancy in establishing police power as a form of sovereignty crucial to settler colonialism, slavery, and racial capitalism. The first book in several generations to address policing and vagrancy in the eighteenth century, and the first in the field to center race and empire in its account of literary vagrancy, Nicolazzo's work is a significant contribution to the field of eighteenth-century literary and cultural studies.
Sal Nicolazzo is assistant professor of Literature at the University of California, San Diego.
"A superb book. Its historical depth and geographical breadth accomplishes far more than most literary scholars, writing on this topic, have done in recent years."—Betty Joseph, Rice University

"A cultural criticism built on the close reading of texts, a model of careful and conscientious reading, and a vital contribution to our understanding of literature's ideological work."—Eugenia Zuroski, McMaster University

"Nicolazzo finds the roots of modern policing in the earliest days of the American colonies and traces compelling connections between the local minutiae of vagrancy law and the vast, brutal sweep of British imperial expansion."—Charlotte Sussman, Duke University

"Reading lyric poetry, fiction, and memoir together with statutory law and the bureaucratic ephemera of various legal functionaries, Sal Nicolazzo dramatically expands our understanding of policing and of the practices and narratives that accompanied it in the early modern period."—Simon Stern, University of Toronto