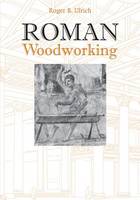 Format:

Paperback

Publication date:

28 May 2013

ISBN:

9780300199840

Imprint:

Dimensions:

400 pages: 254 x 178 x 27mm

Illustrations:

205 b-w illus.
Categories:
This book presents an authoritative and detailed survey of the art of woodworking in the ancient Roman world. Illustrated with over 200 line drawings and photographs, Roman Woodworking covers topics such as the training and guild memberships of Roman carpenters, woodworking tools and techniques, the role of timber in construction and the availability of trees, and interior woodwork and furniture making. It also includes an extensive glossary of fully defined terms.
This comprehensive book displays the accomplishment of the Roman woodworkers and their high skill and knowledge of materials and tools. Ulrich helps bring to light the importance of wooden projects and structures in Roman daily life and provides a wealth of information not only for classicists but also for those interested in the history of technology and the history of woodworking.
Roger B. Ulrich is professor of Classics at Dartmouth College and lives in Hanover, NH.


"This book will be the standard reference for students and scholars seeking either a broad understanding of ancient woodworking or specifics relating to it."—Rabun Taylor, author of Roman Builders: A Study in Architectural Process