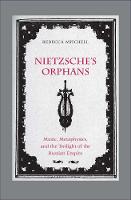 Nietzsche's Orphans Music, Metaphysics, and the Twilight of the Russian Empire Rebecca Mitchell
Series:

Format:

Hardback

Publication date:

14 Jan 2016

ISBN:

9780300208894

Imprint:

Dimensions:

336 pages: 235 x 156 x 25mm

Illustrations:

24 b-w illus.

Sales territories:

World
Categories:
A prevailing belief among Russia's cultural elite in the early twentieth century was that the music of composers such as Sergei Rachmaninoff, Aleksandr Scriabin, and Nikolai Medtner could forge a shared identity for the Russian people across social and economic divides. In this illuminating study of competing artistic and ideological visions at the close of Russia's "Silver Age," author Rebecca Mitchell interweaves cultural history, music, and philosophy to explore how "Nietzsche's orphans" strove to find in music a means to overcome the disunity of modern life in the final tumultuous years before World War I and the Communist Revolution.
Rebecca Mitchell is assistant professor of history at Middlebury College. She lives in Vermont.
"Modernity fragments, but music unites: such is the thesis of this haunting, provocative book.  Highlighting Scriabin, Rachmaninoff and the Medtner brothers, Mitchell examines those intense pre-Bolshevik decades when Russian musicians and music-lovers drew on Schopenhauer, Soloviev, and the youthful Nietzsche to elevate and harmonize their homeland. Their 'musical metaphysics' promised apocalyptic synthesis. Like Orpheus, all was soon dismembered."—Caryl Emerson, Princeton University
"In this fascinating and poignant analysis of a nation's search for its musical and cultural destiny, Rebecca Mitchell is a shrewd but sympathetic guide through the dizzying optimism, haunting self-doubt and finally, the despair of Russia's cultured elite as the spectre of revolution first stalked, then overwhelmed, their country."—Pauline Fairclough, University of Bristol
"A fascinating and deeply informed study of how cultural elites in late imperial Russia invested music with salvific power -- of how 'musical metaphysics' formed their worldview and shaped their search for meaning in the midst of crisis, war, and revolution."—Randall A. Poole, The College of St. Scholastica
Won the 2016 W. Bruce Lincoln Book Prize given by the Association for Slavic, East European & Eurasian Studies.