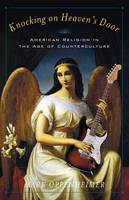 Knocking on Heaven's Door American Religion in the Age of Counterculture Mark Oppenheimer
Format:

Paperback

Publication date:

20 Sep 2003

ISBN:

9780300195514

Imprint:

Dimensions:

304 pages: 210 x 140mm

Illustrations:

18 b-w illus.

Sales territories:

World
Categories:
A witty and provocative reappraisal of the impact of the cultural upheavals of the sixties on American religious life

What happened to American religion during the cultural revolution of the 1960s and early 1970s? The era has long been associated with the ascendancy of Eastern religions and fringe cults. But in this provocative book, Mark Oppenheimer demonstrates that contrary to conventional wisdom, most Americans did not turn on, tune in, and drop out of mainstream religious groups during the Age of Aquarius. Instead, many Americans brought the counterculture with them to their churches and temples, changing the face of American religion.
Introducing us to America's first gay ministers and first female priests, to hippie Jews and folk-singing Catholics, Oppenheimer demonstrates that this was an era of extraordinary religious vitality. Drawing on a rich range of archival material as well as interviews with many of the protagonists, Knocking on Heaven's Door offersa wry and iconoclastic reappraisal of the ways in which the upheavals of the sixties changed America's relationship with God.
Mark Oppenheimer is a freelance writer. He is a staff writer for the Christian Century and has written for many publications, including Harper's, the New York Times, the Wall Street Journal, the Boston Globe, the Yale Review, the Hartford Courant, Playboy, and Slate. He has taught at Wesleyan and Stanford universities.
?An innovative church history that should be of interest to scholars of religion and to those of American popular culture. . . . For those who read it carefully, [it] may spark a revolution in their thinking about American religious life, which is more interesting and counterculture than it may seem.??Michael Alexander, Journal of Interdisciplinary History
"In Knocking on Heaven?s Door, Mark Oppenheimer makes a compelling case that the Nixon years were years of enormous religious vitality. Graced with wit and wonderfully sprightly throughout, this book seamlessly weaves religious history into the broader cultural history of the era."?Grant Wacker, Duke University
?Mark Oppenheimer?s Knocking on Heaven?s Door provides a valuable historical service in ?de-exoticizing? the 1960s. The great majority of religiously-observant Americans did not run off to become Hare Krishnas, or the like, but instead tried to make sense of their place in a rapidly changing society through the prism of inherited beliefs, in churches and synagogues in local communities across the country. Oppenheimer argues, provocatively and persuasively, that the most dramatic and lasting impact of the 1960s is to be found in the changes it brought, not to the margins, but to the mainstream of American culture.??Maurice Isserman, Hamilton College
?Knocking on Heaven?s Door provides a valuable historical service in ?de-exoticizing? the 1960s. Mark Oppenheimer argues, provocatively and persuasively, that the most dramatic and lasting impact of the era is to be found in the changes it brought, not to the margins, but to the mainstream of American culture.??Maurice Isserman, Hamilton College
"If you want to find out how the counterculture was digested and assimilated and metabolized until it became, simply, the American culture, check out what happened in the iron stomach of organized religion. That?s Oppenheimer?s gig, and it works. No serious book should be this much fun to read."?Jack Miles, author of Christ: A Crisis in the Life of God
?Silly talk about ?the 60s? abounds. But this book, which examines how movements arising from that era?s cultural liberalism affected American religion, is anything but silly. Through fine-grained case studies of responses in five very different religious traditions to the rights revolution, the disillusionment of Vietnam, and a new culture of tolerant pluralism, Mark Oppenheimer makes a significant historical contribution. In place of vacuous generalizations from political Left or Right, this book offers the welcome relief of concrete situations studied with both insight and empathy.??Mark A. Noll, Professor of History, Wheaton College
?This book, which examines how movements arising from the 1960s? cultural liberalism affected American religion, makes a significant historical contribution. In place of vacuous generalizations from political Left or Right, this book offers the welcome relief of concrete situations studied with both insight and empathy.??Mark A. Noll, Wheaton College
"The level of [Oppenheimer?s] scholarship is outstanding, and the book a lively, colorful read."?Jay Michaelson, Forward
"[A] competent, accessible study."?Publishers Weekly
"As the country?s metamorphosed religious communities continue to weigh in on diverse social issues, readers will turn to this book for context and understanding."?Booklist (starred review)
"Oppenheimer has produced a splendid case study in comparative religion and in contemporary history. Knocking on Heaven?s Door should also interest readers who are curious about the methods and limits of institutional reform."?Stephen J. Whitfield, Sh?ma
"A well-written and consistently interesting . . . account of America?s most recent religious awakening."?Alan Wolfe, Books & Culture
?[An] insightful and charming cultural history.??Michael Shermer, Los Angeles Times Book Review
?Mark Oppenheimer takes a fresh look at an era popularly known for its assault on all things traditional and sacred. . . . His interpretation is fresh, carefully grounded and footnoted, and very readable. This study of the dance of institutional resistance and change is a welcome antidote to voices proclaiming decline in American religious forms.??Marcia Z. Nelson, Christian Century
"Examples of the influence of the counterculture on mainstream religion are well-chosen; Oppenheimer succeeds in illustrating the extent to which established communities were compelled to confront social change. . . . Knocking on Heaven?s Door makes a meaningful contribution to American cultural studies.??Michael Gilmour, Journal for Cultural and Religious Theory
?In a world of so many attractions, however, one stands out and specially recommends Knocking on Heaven?s Door: its wonderfully rich discussion of each case study. Readers really are transported into each world as they encounter the essential background, the key personalities, the structural dynamics, and the central conflicts at work. Oppenheimer has a gift of bringing religious history alive, and I found myself appreciating each chapter of his successful book.??Robert Booth Fowler, Journal of American History