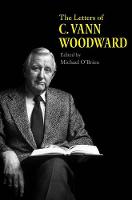 Format:

Hardback

Publication date:

24 Sep 2013

ISBN:

9780300185348

Imprint:

Dimensions:

480 pages: 235 x 156 x 32mm

Sales territories:

World
Categories:
C. Vann Woodward was one of the most prominent and respected American historians of the twentieth century. He was also a very gifted and frequent writer of letters, from his earliest days as a young student in Arkansas and Georgia to his later days at Yale when he became one of the arbiters of American intellectual culture.
For the first time, his sprightly, wry, sympathetic, and often funny letters are published, including those he wrote to figures as diverse as John Kennedy, David Riesman, Richard Hofstadter, and Robert Penn Warren. The letters shed new light not only on Woodward himself, but on what it meant to be an American radical and public intellectual, as well as on the complex politics and discourse of the historical profession and the anxious modulations of Southern culture.
Michael O'Brien is professor of American intellectual history at the University of Cambridge.
"These letters offer a colorful chronology of the events and associations, personal and professional, that made C. Vann Woodward a formative presence in Southern and American history."—The Wall Street Journal
'Woodward was a consistently first-rate correspondent, and these letters offer an eloquent insight into the writing of history as an ongoing, collaborative project based around candid exchange.'—Tom F. Wright, Times Literary Supplement
"Readers interested in the struggles over civil rights, academic freedom, or the inner workings of the historical profession will find this book riveting. . . . Writing in 1972 to a much younger Michael O'Brien, Woodward described himself as a 'Liberal Conservative Populist Marxist,' and all those dimensions of his ambivalence unfold through these expertly edited and annotated letters."—James T. Kloppenberg, author of Reading Obama: Dreams, Hope, and the American Political Tradition

"In this age when letter-writing is dying, Michael O'Brien's collection of Woodward's letters is a treasure. O'Brien beautifully demonstrates how Woodward used letters as a 'medium of observation and criticism' and a probing of his own 'identity.' This book is personal (Woodward's famous 'ironic subtlety' in full array), but more so, it is a sublime literary display of the craft of history from inside the process of a man devoted to taking scholarship to the public."—David W. Blight, Class of 1954 Professor of History, Yale University, and author of American Oracle: The Civil War in the Civil Rights Era

"These selections strike me as smart, appropriate, and—in so far as possible with so guarded a correspondent as Woodward—strikingly evocative of his temperament and mindset as both evolved and persisted over time. O'Brien has given Woodward's letters the respectful, measured treatment that they deserve."—James C. Cobb, author of Away Down South: A History of Southern Identity

Won an Honorable Mention for the 2013 New England Book Festival given by the JM Northern Media Family of Festivals, in the Compilations/Anthologies Category.
"These selections strike me as smart, appropriate, and—in so far as possible with so guarded a correspondent as Woodward—strikingly evocative of his temperament and mindset as both evolved and persisted over time. O'Brien has given Woodward's letters the respectful, measured treatment that they deserve."—James C. Cobb, author of Away Down South: A History of Southern Identity