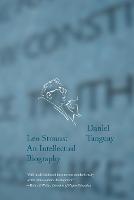 Format:

Paperback

Publication date:

29 Mar 2011

ISBN:

9780300172102

Imprint:

Dimensions:

272 pages: 203 x 133mm

Sales territories:

World
Categories:
A major, groundbreaking biography that traces the intellectual development of one of the most important political thinkers of the twentieth century

Since political theorist Leo Strauss's death in 1973, American interpreters have heatedly debated his intellectual legacy. Daniel Tanguay recovers Strauss from the atmosphere of partisan debate that has dominated American journalistic, political, and academic discussions of his work. Tanguay offers in crystal-clear prose the first assessment of the whole of Strauss's thought, a daunting task owing to the vastness and scope of Strauss's writings. This comprehensive overview of Strauss's thought is indispensable for anyone seeking to understand his philosophy and legacy.
Tanguay gives special attention to Strauss's little-known formative years, 1920-1938, during which the philosopher elaborated the theme of his research, what he termed the "theological-political problem." Tanguay shows the connection of this theme to other major elements in Strauss's thought, such as the Quarrel between the Ancients and Moderns, the return to classical natural right, the art of esoteric writing, and his critique of modernity. In so doing, the author approaches what is at the heart of Strauss's work: God and politics. Rescuing Strauss from polemics and ill-defined generalizations about his ideas, Tanguay provides instead an important and timely analysis of a major philosophical thinker of the twentieth century.
Daniel Tanguay is associate professor of philosophy and adjunct professor of political science, University of Ottawa. He lives in Ottawa. Christopher Nadon is associate professor of government at Claremont McKenna College.
"Will in all likelihood become the standard study of the philosopher's development."?Richard Wolin, Chronicle of Higher Education
"[A] step-by-step development of Strauss's ideas and writings, especially in the thirties and forties, a reconstruction that?remarkably, but tellingly?no American Straussian has thought to undertake."?Mark Lilla, The New York Review of Books
"Daniel Tanguay's intellectual biography of Leo Strauss is the fullest and fairest analysis of Leo Strauss's thought available in any language."?Daniel J. Mahoney, Assumption College
?This may well be the best study of Leo Strauss yet to appear. It evokes a detailed account of Strauss the thinker rather than the icon of ideology and has something useful to say about all aspects of Strauss?s work. Tanguay is especially helpful for his account of the Jewish and Arabic Strauss and the interplay of this side of Strauss?s thinking with his understanding of the roots of modernity. I was struck by his observation that Strauss is not a conservative because he devalues convention in favor of nature. I recommend this book very highly.??Stanley Rosen
"Tanguay has written an excellent book that uses 'the theological-political problem' as a 'unifying perspective' for the work of Leo Strauss. . . . Highly recommended."?Choice
"When Tanguay's book was published in 2003, he could claim to have produced the first comprehensive study of Strauss's thought; now that it has been joined by several others, one can say too that it is the most satisfactory. It is faithful to Strauss's principle that a thinker must be understood as he understood himself, and it is a serious study, with matter and insight helpful even to veterans of the Strauss circle."?Harvey C. Mansfield, Claremont Review of Books
Selected as a 2008 AAUP University Press Book for Public and Secondary School Libraries.
Selected by Choice magazine as an Outstanding Academic Title from 2008.
"A superb primer on Strauss. . . . Reading Tanguay's book plunges the reader into the civilizational conversation of our time, not by any reference to contemporary debates but by the complex presentation of Strauss's struggle with liberalism, with modernity, with 'the Jewish Problem.' . . . It may be the best single volume on Strauss's ideas."?Ted McAllister, First Principles
"Tanguay's comprehensive and penetrating book explores Strauss's approach to the theologico-political problem. . . . Admirably translated. . . . Tanguay offers an intellectual biography in which Strauss's later works are repeatedly treated as refinements of earlier efforts."?The Review of Metaphysics