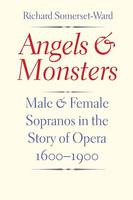 Angels and Monsters Male and Female Sopranos in the Story of Opera, 1600-1900 Richard Somerset-Ward
Format:

Paperback

Publication date:

10 Jun 2014

ISBN:

9780300209792

Imprint:

Dimensions:

352 pages: 235 x 156mm

Illustrations:

32 b-w illus.
Categories:
A riveting history of the early male and female sopranos for whom many of the greatest roles in opera were written

During its first two centuries, opera was dominated by sopranos. There were male sopranos, or castrati, whose supercharged voices (female vocal cords powered by male lungs) were capable of feats of vocalism that are hard to imagine today. And there were female sopranos, or prima donnas, whose long battle for social acceptance and top billing was crowned in the early nineteenth century when the castrati disappeared from the opera stage and left them supreme.

Whether they were male or female, these singers were amazing virtuosi, perhaps the greatest singers there have ever been—"angels." Unfortunately, some of them (and often the most famous) were also capable of behaving extremely badly, both on and off stage—"monsters." This book tells their colorful stories.

Besides providing fascinating anecdotes about some of those who graced and disgraced the operatic stage, Richard Somerset-Ward tells the story of their greatest glory—the singing tradition they founded and perfected, which we know as bel canto and which is still the backbone of operatic singing today.

Rich in musical, social, and cultural lore, Angels and Monsters illuminates a unique and vanished tradition and will be irresistible to opera lovers everywhere.
Richard Somerset-Ward, a senior fellow of the Benton Foundation in Washington, D.C., is also the author of The Story of Opera.