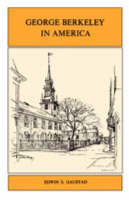 Format:

Paperback

Publication date:

11 Dec 1959

ISBN:

9780300113440

Imprint:

Dimensions:

240 pages: 210 x 140mm
Categories:
In 1728 George Berkeley, the Irish philosopher and Anglican priest, came to America in the hope of founding a university in Bermuda and converting the Indians. He never reached Bermuda, where within a few years no Indians were left. Instead he settled in Newport, Rhode Island, one of the few places in New England that was hospitable to Anglicans. There his lively mind and sympathetic spirit involved him in a great variety of interests, though he stayed only thirty-three months.
"Westward the Course of Empire takes its Way," Berkeley wrote, and these words inspired Americans both as British colonists and later as citizens of a new nation. Berkeley, in spite of his disappointment over the much-vexed Bermuda project, never flagged in his concern for the spiritual and intellectual life of the New World. The presence of the distinguished churchman gave heart to embattled Anglicans in Puritan New England. Through his close friendship with New Haven's Samuel Johnson, Berkeley did much to encourage both that faith and the town's recently founded college. Harvard also benefited from his generosity. But Berkeley's enduring influence on the cultural life of America is attested all the way from Yale's Berkeley College to Berkeley, California, the site of another great university.
This book is a graceful and authoritative account of an important episode in the life of a major philosopher and influential figure in the religious life of colonial New England.


"An attractive window through which to look at some important strands in the intellectual and religious life of eighteenth-century Britain and America. . . . This is a gem of a monograph."?Robert T. Handy, Church History
"The prose is graceful and the carefully developed thesis shows insight as well as understanding. . . . The result is an unusually beautiful book which merits the scrutiny of all scholars working in the areas of American colonial or intellectual history. It will also appeal to the curious layman."?Ralph Adams Brown, The Historian
"The careful attention to detail, along with the pleasure of [several] new perspectives, makes Gaustad's book a model of historical scholarship."?Winthrop Hudson, The Journal of Religion
"George Berkeley in America provides fresh insights into the career of a major philosopher and through him a deeper understanding of an important segment of the eighteenth-century religious mind. Gaustad, moreover, has adorned his narrative with a grace, clarity, and wit worthy of the subjects.?Princeton Semianry Bulletin