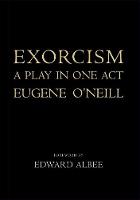 Format:

Hardback

Publication date:

28 Feb 2012

ISBN:

9780300181319

Imprint:

Dimensions:

112 pages: 178 x 127 x 14mm

Sales territories:

World
Categories:
Shortly after the debut of Exorcism in 1920, Eugene O'Neill suddenly canceled production and ordered all extant copies of the drama destroyed. For over ninety years, it was believed that the play was irrevocably lost, until it was recently discovered that O'Neill's second wife had in fact retained a copy, which she later gave to the prolific screenwriter and producer Philip Yordan. In early 2011, Yordan's widow discovered the typescript of Exorcism—complete with edits in O'Neill's own hand—in her late husband's vast trove of papers. The discovery and publication of Exorcism, a relatively early play in the O'Neill corpus, furthers our knowledge of O'Neill's dramatic development and reveals a pivotal point in the career of this great American playwright.
Revolving around a suicide attempt, Exorcism draws on a dark incident in O'Neill's own life. This defining event led to his first serious efforts to write. Exorcism displays early examples of O'Neill's unparalleled skills of capturing deeply personal human drama, and it explores major themes—mourning and melancholia, addiction and sobriety, tensions between fathers and sons—that would permeate his later work. According to Yale University's Beinecke Rare Book and Manuscript Library curator Louise Bernard, who acquired the play from a New York bookseller, "Exorcism might be read as a preparatory sketch that resonates powerfully with Long Day's Journey into Night, one that brings the O'Neill family drama full circle in ways at once intimate and grandly conceived."
More about this title
Read an article about Eugene O'Neill's Exorcism on Yale's blog
Eugene O'Neill (1888–1953), considered by many to be America's greatest playwright, was a four-time recipient of the Pulitzer Prize for Drama and winner of the Nobel Prize for Literature in 1936.
"[T]he long-overdue addition of Exorcism to his body of work . . . helps us see a little more clearly into the dark soul of one of America's greatest dramatists."—Colin Dabkowski, Buffalo News
"Exorcism opens a window on the moment in 1912 when O'Neill bottomed out. . . . His early writings are filled with intertextual references. The freshness and originality of his early work was consistent with the larger trend of modernist literature—deeply embedded in a world of reused words."—William Davies King, Eugene O'Neill Review
"A kind of portrait of the artist as a young man."— NPR
Exorcism's most enduring message may be that, even with artists,the drama on stage is no less real than that of everyday life."— Heather Horn, The Atlantic Wire
Serialized in The New Yorker